**COMING SOON**
SAM IO is a manually operated intraosseous access system. Catheter placement is achieved by continuously actuating (repeatedly compressing) the driver's trigger assembly while gently guiding needle assembly into position. Repeated, full trigger actuation creates rotational spin of the needle assembly which, when combined with gentle downward pressure, results in controlled IO placement. Once needle assembly is properly positioned, the stylet is removed to expose standard Luer-lock for extension set connection. With the extension set connected, aspiration verification, flushing and selected treatment(s) may commence.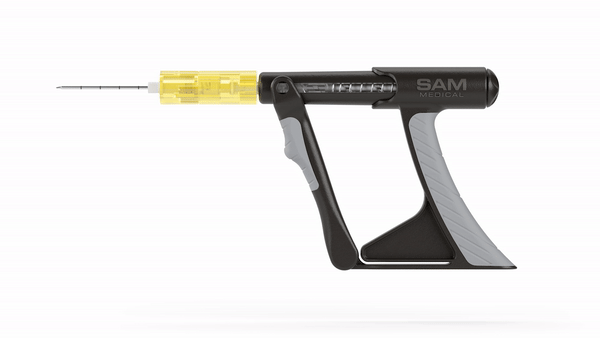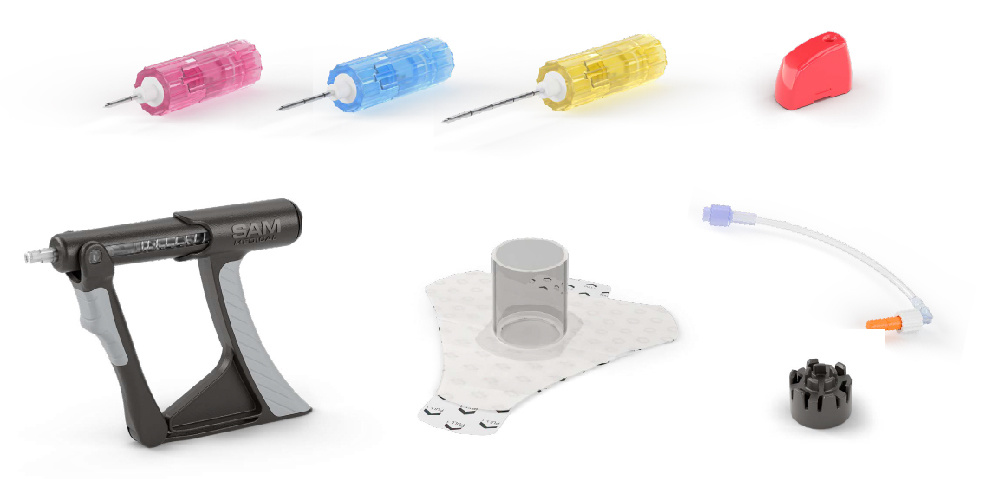 SAM Medical, an industry leader committed to developing and manufacturing the most innovative trauma care medical devices, announced the launch of the SAM IO Intraosseous Access System for pre-hospital and hospital healthcare providers in the civilian and military sectors.Designed to be an effective and intuitive alternative solution to intraosseous access, the SAM IO's unique manually powered and multi-use driver offers medical professionals the ability to quickly and easily administer critical fluids and medications into a patient's vascular system through the bone marrow during emergency situations.
At its core, the SAM IO is comprised of two main components: a driver and a needle assembly. The needle assembly, including a catheter and stylet, is secured to the driver via a snap-fit design. The needle is then introduced through the soft tissue of either the proximal humerus, proximal tibia, distal tibia, or distal femur (pediatrics only). Once the needle tip is in contact with bone, the driver handle is actuated, producing rotational control of the needle assembly. The cutting flutes of the catheter drill through cortical bone until the needle assembly is introduced into the bone marrow. The driver and stylet are then removed from the catheter.
For more information, please contact us on [email protected]